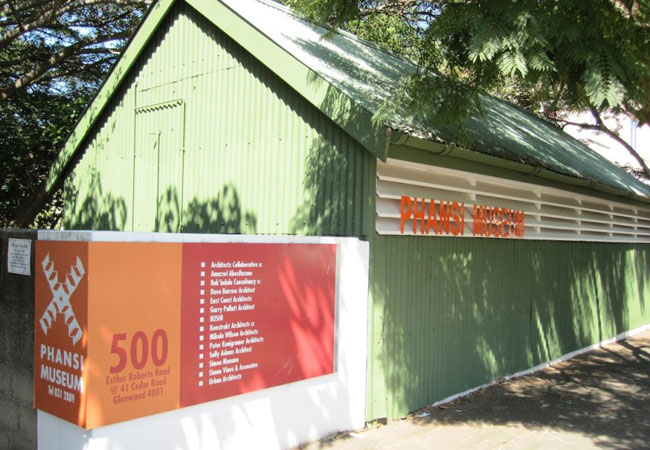 PHANSI means beneath, underneath or below .PHANSI MUSEUM is a hub of spiritual relevance, anthropological excellence, artistic influence and   cultural wealth. Spiritually, Phansi is a place beneath us, beneath our dancing feet, beneath our tinkering drums, beneath   our breath vibe, beneath our voices .It   is the place below where our ancestral spirits live. The  best  collections  are  found  at  the  basement  location  of museum , hence the name PHANSI.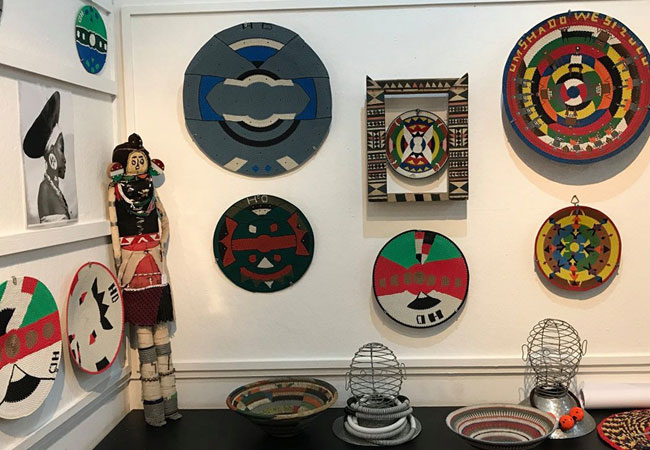 Inside this cultural and spiritual haven located at 500 Esther Roberts Road in Umbilo you find the treasure of South African historical wealth, diverse artistic ornaments and a myriad of   tribal /traditional handmade collections. The belly of the museum carries a myriad of  utensils , materials for marriage rituals  , ancestral  hunting tools,  dressings for kings and queens, drums ,pots and spears for and made by all South African tribes that include Sotho , Venda ,Zulu , Ndebele ,Tswana , Tsonga , Shangani   and  more- hunting spears , milking pots , bridal beads belts , millet beer drinking pots ,head gears  for African traditional healers .( ceremonial attires and  ritualistic dressings).
The  day  to day operations at  the  museum  are  led  by  Assistant  Curator  PHUMSILE  NKOSI and  her  team , NKOSI has  vast  experience   in preservation  of South African culture   and  heritage . She is  a  professional   museum  curator  who  carries with  her  great  passion   in  everything  she does  and  says at  the museum.NKOSI  appreciates  the  diversity  and the  creativity  that  comes  with working  artists  of  different  talents  , genders  , races  , ages   and  backgrounds . The words underneath  are a proof  that  PHUMZILE  NKOSI   has  a  complete  sense  of  humanity  and her  passionate  appreciation of  African  art ,heritage  and  spiritual creativity .
"PHANSI MUSEUM houses African treasures that need to be explored by every South Africans. During   my  entire  tenure  as  the  Assistant  Curator, I have learnt more about the value of our African cultures and it is very important to  restore the love and the pride of my culture which was lost due to waves  of  industrialisation.
I am inspired by PAUL MIKULA the Founder of PHANSI MUSEUM and HLENGIWE DUBE the famous beadier and weaver and many other artists"
The  Founding  Trustee   of  PHANSI  MUSEUM  Paul Mikula  is  not  only  talented  but he also  highly  passionate  about  art and  creativity . He talks about true art   without fear and favour .He believes in originality and organic creativity. The  creative  giant  in Paul Mikula  suggests   that  a lot  can be  done  in exposing South African  artists , cultural   and anthropological  artefacts  to  the vast  of South Africans  and  Africans who has  since  lost their artistic dignity and cultural pride   .
The  PUPPET COLLECTION  in the  museum is  extraordinary ,each  puppet  has  a dress code , colour ,   material and  the  design  of clothing  and  jewellery indicate where  the wearer originates from , their  age, gender  and social  status  in his  or  her  community
The  museum houses  a  myriad  of  bead work  from  southern African tribes of Xhosa, Zulu  , Ndebele,Himba   and  Herero(  NAMIBIA) .The  Beadwork  collection  in the  museum  is a   true  symbol  of African  culture  ,social identity  , spiritual creativism and tradition .
Ukhamba or perfectly shaped beer pots are   part of the museum collection. They are made by   talent. Traditional  is  brewed beer  is  a  ritual  to honour and appease  our ancestors , hence  a respectful  design and  presentation  through  skilfully  made  beer  pots.
The  mesmerizing Museum collection  includes Milk Pails ,Frank Jolles  Collection  and Telephone  wire  baskets  , snuff  containers ,tobacco  pipes , clay pots , ceremonial  attires   and  medicinal  items  dating back  to the  mid-19th  century .
Besides   craft , cultural  artefacts  and  traditional collections  , the  museum  also   houses  a  library   for  research  , cultural  knowledge  literary  and  historical   understanding . Another  fascinating activity  is  Guided  Tours  that  are  led  by  highly  passionate  , extremely  traditional  arts experts , tours  are  meant  to educate  , culturally insight  and entertain  guests . The  bi-monthly  PHANSI  GOES  PHEZULU  GALLERY  is mesmerizing with  the  sole intention to  encourage  direct community  involvement  and  participation .The exhibitions  touch on  prejudice , myth ,collective  memory , histories  , customs  and traditions .
The  ambience  at  the  museum is   stunning , the overpowering aroma  from the  coffee shop , the  ever smiling museum attendants , the  human diversity: races , languages  and  cultures, the   oily   inviting smells of natural flora outdoors  and  poetry people  balcony  bathing  in poetry and  sunshine .
Trip advisor-https://www.tripadvisor.co.za/Attraction_Review-g312595-d5521327-Reviews-Phansi_Museum-Durban_KwaZulu_Natal.html
Website – https://phansi.com/
FACEBOOK-https://www.facebook.com/PhansiMuseum/
Compiled and Written by MBIZO CHIRASHA
– is  an internationally  anthologized poet , literary  arts  project  curator , creative  humanist , arts  activism catalyst , blogs publisher   and a  Writer  in Residence . He  is the  Solidarity member  of GAPA( Global Arts  and Political Alliance),the African Partner of the  International Human Rights  Arts Festival, He  is the  Resident Coordinator  of  100 Thousand Poets  for  Change- Global, the Founder of  Girl Child Creativity Project(www.girlchildcreativity.blogspot.com) ,the Facilitator  of the Creative Leadership and Artistic Training Project . Chirasha is the  Editor  of the  Brave  Voices  Poetry Journal .Mbizo Chirasha  is the  Originator  of the  Zimbabwe We  Want  Poetry Campaign. He writes for the Tuck Magazine- the International Magazine on Arts Human Rights and Politics,(www.tuckmagazine.com/tag/poetry/mbizochirasha) (www.en.wikipedia.org/wiki/Mbizo_Chirasha,me.facebook.com/mbizochirasha)