Life  is a  paradox, the world  is  a  crime  ,otherwise the world  is a haven of great  things and worst  experiences .   I  had  a chance  to interact with  women ,young women, young men and  men  during  my tenure  as   an INK Community  Writing  Skills  Development  Facilitator  in  KwaZulu-Natal province, South Africa  courtesy of the Valhalla Arts( headed by Mr  Musa E. Zulu)  and  the EThekwini Municipality  Area Based  Management Unit( headed by  Mr Linda Mbonambi). I discovered  that a  lot of people  die  carrying  their anger ,sadness ,pain  ,  excitement   and zeal inside  their soul caves  for  they are  not usually  afforded  the chance  to pour out their  stories  and   pass the  precious  heritage  of their  stories , their lives and   their tribulations  to   the  remaining  generations and others to come.  Many people    die with  their  rich  and  fertile  experiences  that  can make  volumes  and  volumes  of books   for   humanity to feast  from. These books can be used to change negative perceptions   and   stereotypes that have greedily  gripped our communities   . We are  born from different cultures    with different abilities and disabilities. Some are born handicapped mentally, physically or visually. Some   suffer accidents  at their  prime  puberty  stages , some  are  born with albinism  and some   grow  up   without challenges   and  only  suffer traumatic experiences   when  they  grow  up . Some   are left by their spouses during challenging times. Some  are  disadvantaged  by peer pressure , some  are  visited  by the  devil ,  beaten to near  death or raped  as  they  try to climb the  ladder of life .Many  have  faced   impossible experiences     but they pulled through  to  become  living  testimonies  in this  paradoxical  world . During those creative interventions with the Ink Community, I   got motivated to be part of everything   . Their  life stories  were written based  on their  challenges  and it  seems  these  challenges  shaped   them  into  more  stronger beings . The stories were told from  an African point of view ,South Africa  is  a  country  rich  with  exciting / sad  historical moments .It  has  a  stunning  cultural and traditional heritage . Its political stories are fat with racial and apartheid era connotations.It has its own complexities and realities. In reality ,South Africa is a paradox.
Black South Africans   have a lot of stories to tell and to write.Their stories are heart rending,nerve wrecking, thought provoking,memorable and timeless.People in black townships  have  suffered  a  great  deal  and has  experienced  several traumas  that  include  discrimination ,  rape  , violence  , educational poverty ,  material   poverty , hunger   and  displacements .These  people  have  been also  at the  receiving  hand  of  political  propaganda ,   oppressive  apartheid era regime,   zealotry, expediency and  puzzling corruption . They have become pawns pimped by preceding regimes of  black and white leadership. Black township communities have many   stories for their people and by their people. These stories   can achieve to be both knowledge libraries and literary heritage for generations . A book is the best   place where stories,experiences, challenges and solutions should be placed in.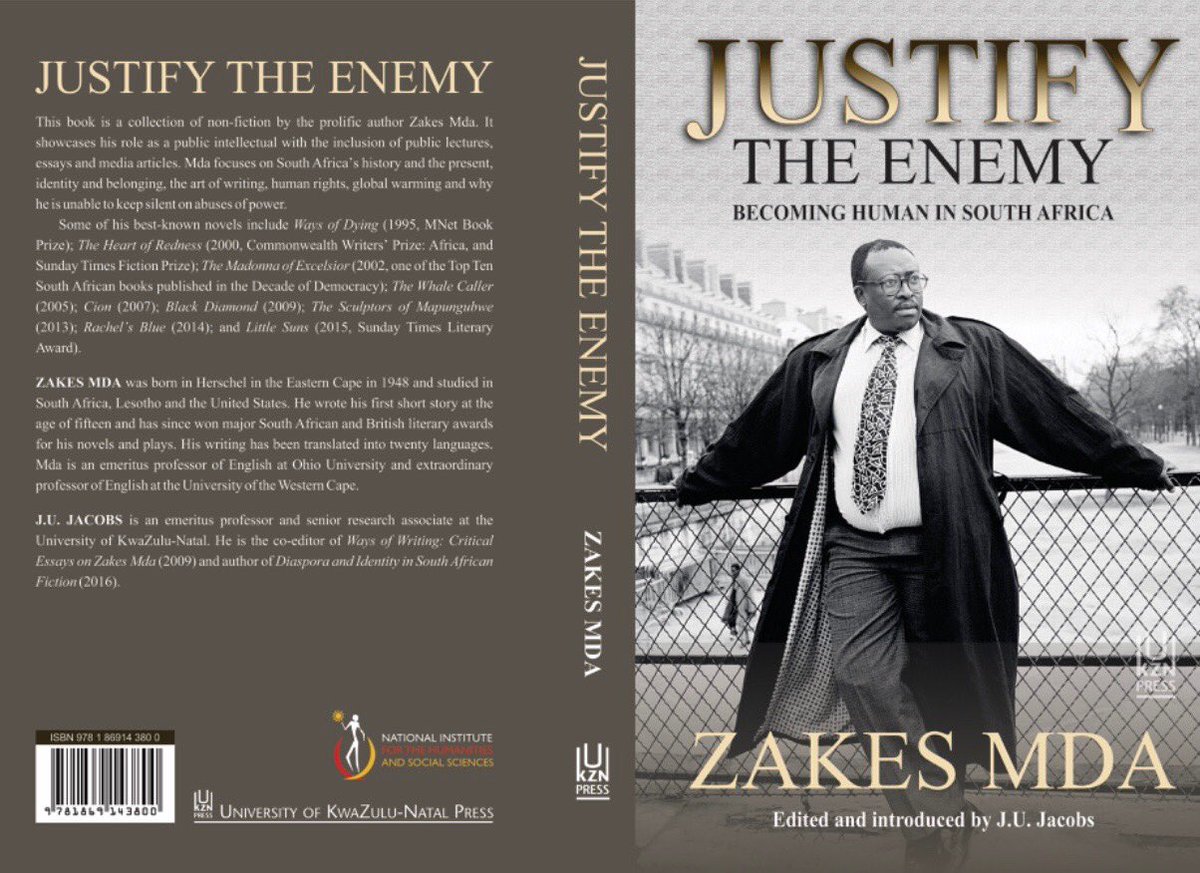 It is  quite  interesting  when stories  are  told  by  those  who  experienced   them .It  is  great  and refreshing  that  the  Ink Community  Trust  and the  EThekwini  Municipality  Areas Based  Management  Unit   have   seen it  fit  to   develop  vulnerable  communities   through   initiating    writing skills   and  literary  prowess   development programs  . During my tenure,  I was confronted by the  burden  of fresh and raw stories  that  require the  right  motivation for  those  stories  to burst  into    thick  collections of  mesmerizing IsiZulu  and English  text  .  I  would like  to  title  this  book    project   The  Story  of the  People . Creative  interventions    like  this  one gives  people  hope  and   grow  their creative and thinking abilities , thus  growing  the  creative  knowledge  economy  for the  nation .It  makes   and shapes  them into great  leaders , voices  and messengers  of development in their preferable  communities. It is quite important for a community to read what it writes, to listen and learn from its own story: True Education.
It  is  high time  that communities learn from their experiences , build  their libraries  without  borrowing  and  begging  for  learning  material .The  children of  black Africa should learn  and  read  from their own  stories  , stories of  their  fathers   and their mothers , for these  are their immediate heroes and heroines of  their times.  The today's generation should learn   to respect their own, love   and praise their own, hence the writing of own story. I continue to emphasize   that our children should read our own stories, our African stories, stories that belong tour pastures, stories of our struggles and stories of valleys, rivers and mountains. We  are  the  story ,his  story and her story  , the story  of  forefathers  and grandmothers  inherited to the  children  and their  descendants .  Foreign stories  cannot  simply change  or  grow  us  the  way  our story  is relevant  to us  and to our  children. This  story  of the people  concept  is vital and  necessary  for the  development  of communities  and betterment of their lives .People  in KwaMashu , Inanda  and  Ntuzuma  are  in dire stress  because  of  the kind  of lives  they are  living . These communities are decorated with scars, hate,wounds, pain and hunger.  The gutters  are pregnant with illicit drugs ,  the bridges smell  rot stench of overused condoms , streets bathe in hate and  blood  .Those  wounds  can be  and are shaped  into  readable  and exciting stories  during  our  community  skills training  interventions .It is quite  interesting  that  the   writing skills  project  had no  age  limits , we  didn't  discriminate on  the  basis  of physical   ability , profession  , age or  gender  .This  gave  us  a  great  mix  of  interesting  stories  from  a  variety  of experiences , diversity at its best .  We had to use various tact methods to provoke the giant writing spirits inside our   participants. We gave  them  the chance  to go  and create ,develop and also grow  their stories, to review their life experiences , we  helped them  with teasers , motivation  insights   ,stories  of  other legendries to  provoke  the writer tigers  in them  and  after  all  those catalytic  processes  ,they   found  it  easy to write  their  own life experiences  and turn their  experiences  into readable  and  educative  stories  that  can save  others  who  lived or are living through   the  same  experiences  and do  not know  how  to  come out   or how  to solve their  challenges .
Writing is a therapy,telling your own story heals. Many  life scars  were healed  , many  wounds  dried  and  many  souls  were uplifted  as  we  pushed  through  with this  creative  writing  skills  training  intervention . Telling your story is the beginning of self-development,the birth of self-assertiveness and self-esteem. In this modern day era everything starts from the book. It is good to invest in books for  the  promotion  literacy culture development  ,  fostering  academic excellence  and  strengthen the  creativity  of our  present  and  future  generations . Such interventions are always good  because  they help  to curb  community  troubles   like  drug abuse , violence , delinquency ,sexual rape  ,killings  and many  other  vices. The writing  skills project was   highly  received  by  participants/budding  writers  because  the  writers    wrote what they  know , their  greatest  moments ,their triumphs, their trials and tribulations ,their  poverty  and their wealth , their  highs  and lows. It was a refreshing and humbling experience.
MBIZO CHIRASHA
 is  an internationally  anthologized poet , literary  arts  project  curator , creative  humanist , arts  activism catalyst , blogs publisher   and a  Writer  in Residence . He  is the  Solidarity member  of GAPA( Global Arts  and Political Alliance),the African Partner of the  International Human Rights  Arts Festival, the  Resident Coordinator  of  100 Thousand Poets  for  Change- Global, the Founder of  Girl Child Creativity Project( 2010 to present) , founder/Creative Director of  the Young Writers Caravan( 2003-2007),  Facilitator/Curator of the Creative Leadership and Artistic Training Project for Africa( 2018- 2023)  .He  is the Word Press Publisher  of  thePersonalitiesofinspiration(www.personalitiesofinspiration.wordpress.com)  and  MiomboPublishing (www.miombopublishing.wordpress.com ).Chirasha is  the  Editor  of the  Brave  Voices  Poetry  journal (Journal for political poetry and creative resistance), he  is the  Originator  of the  Zimbabwe We  Want  Poetry Campaign. He writes for the Tuck Magazine- (the International magazine on Arts Human Rights and Politics.).Mbizo Chirasha is the editor of the E-Poetry  Anthology  on Zimbabwean political instability "INSIDE DISGRACELAND".He  Co-edited , edited   , compiled, contributed  and written several  books , collections and  anthologies  across  theglobewww.en.wikipedia.org/wiki/Mbizo_Chirashame.facebook.com/mbizochirasha, me.google.com/mbizochirasha,